Bring your ECC into the next generation of guidecard software with APCO IntelliComm.
APCO IntelliComm can be configured to meet your agency SOPs and support your special local or regional requirements. APCO IntelliComm is a SaaS based application supported by IBM Watson Analytics with cognitive capabilities that include trend analysis, meta-data processing and the ability to learn and train based on how each agency operates individually, not on how others operate.
Six reasons why ECCs choose APCO IntelliComm

1
Customizable Content
Criteria and text on electronic guidecards can be configured to allow the inclusion of your local patient standards of care and specific geographic realities. Core software and functions remain consistent.
2
No Install Needed
Nothing is installed on your ECC equipment. Updates and upgrades take place in the IBM Cloud, so there is no downtime to keep the software current. Cloud-based technology aligns with IP-based NG9-1-1 services. All you need is a supported browser on the workstation and you are ready to go.
3
Medical, Law Enforcement and Fire Service Included
IntelliComm includes all emergency platforms, with each discipline always available on-screen for immediate access and dispatch. With IntelliComm all disciplines are available with a click via the guidecard link. Time life criticals are always available on the left margin along with immediate dispatch buttons for all 3 disciplines. The NCMEC cards and the ERG manual are also included and accessible from the left menu.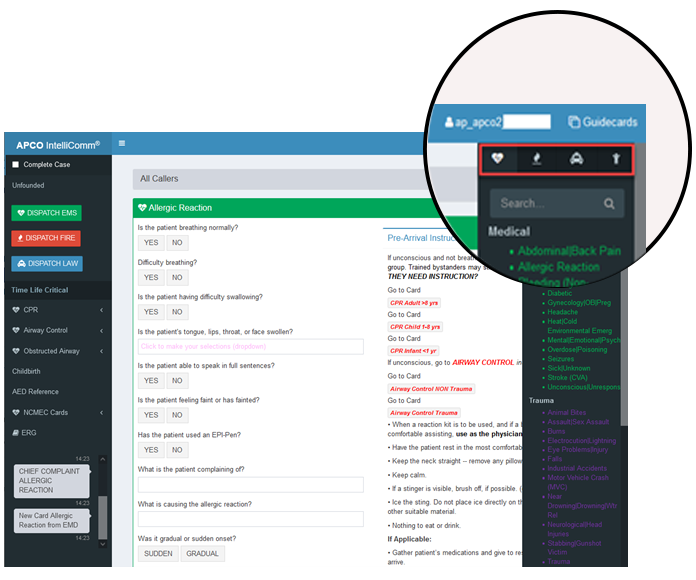 4
Portable
Accessibility from mobile devices helps ensure continuity of operations.

5
Interactive Dashboard
The dashboard is a supervisor/admin tool that allows the agency to monitor call traffic, recognize trends, view call taker performance and view team performance across 7, 14 and 31 day intervals.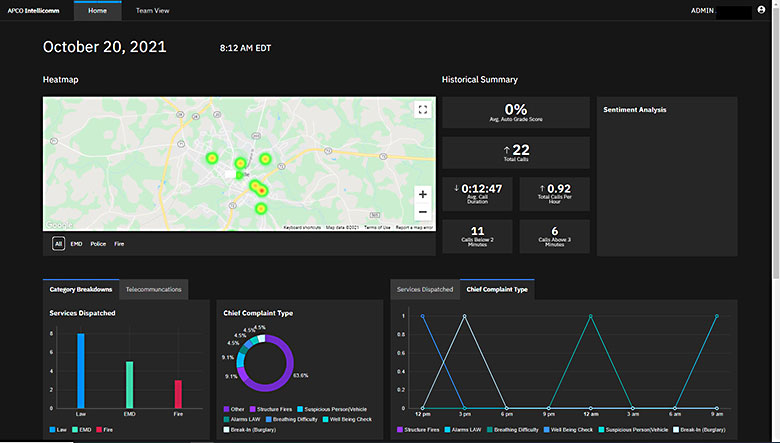 6
Quality Assurance Is Included at No Cost
Your agency can QA calls 15 minutes after the call has ended. IntelliComm can QA specific calls, a percentage of calls or all calls. QA reports can be generated by call taker and evaluator. Call audio is available if there is an interface to your recording vendor.